NEXT EVENT: MONDAY, MAY 23RD, 2011
Monday, May 23 ·

6:30pm

 - 

9:00pm

---

Location

---

 

 

---

More Info

The Ladies Home Club invites you to our annual celebration 
SPA FOR THE SOUL 
Pamper your body, Nurture your soul! 
Spa treatments, Hand massage, Chair massage, Mini manicures, Hand paraffin treatments, Buffet dinner, Raffle, 
Guest Speaker: Reyna Simnegar 
One Woman's Journey- " The inquisition and I " 
couvert 36$ 
Evening Patron 54$ 
Evening Sponsor 180$ 
Host Committee: 
Allison Davis,Stephanie Beillin,Kim Kent,Cara Kepnes,Pamela Millman Stein,Barbara Sigel,Gina Tzizik,Ellen Winchell
 RSVP to Raizel@JewishPeabody.com TO PAY, PLEASE MAIL IN CHECK OR ONLINE CLICK HERE AND PUT SPA IN THE COMMENT BOX
LADIES HOME CLUB SCHEDULE FOR 2010-2011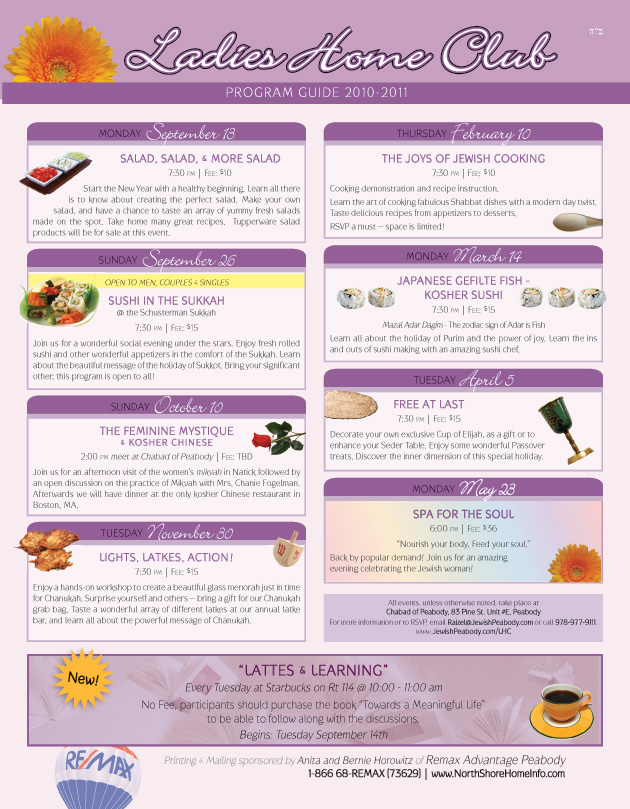 Passover Ladies Event: Tuesday, March 16th, 7:30pm -
Matza: A Matter of Taste 
Understand the true taste of Personal redemption... Get creative and create your very own etched glass Matzah plate to use at the Passover Seder. Plus taste some traditional Passover Foods and Learn some new Recipes to take home.

Tuesday, December 8th - 7:30pm

December 1st at 7:30pm at Chabad of Peabody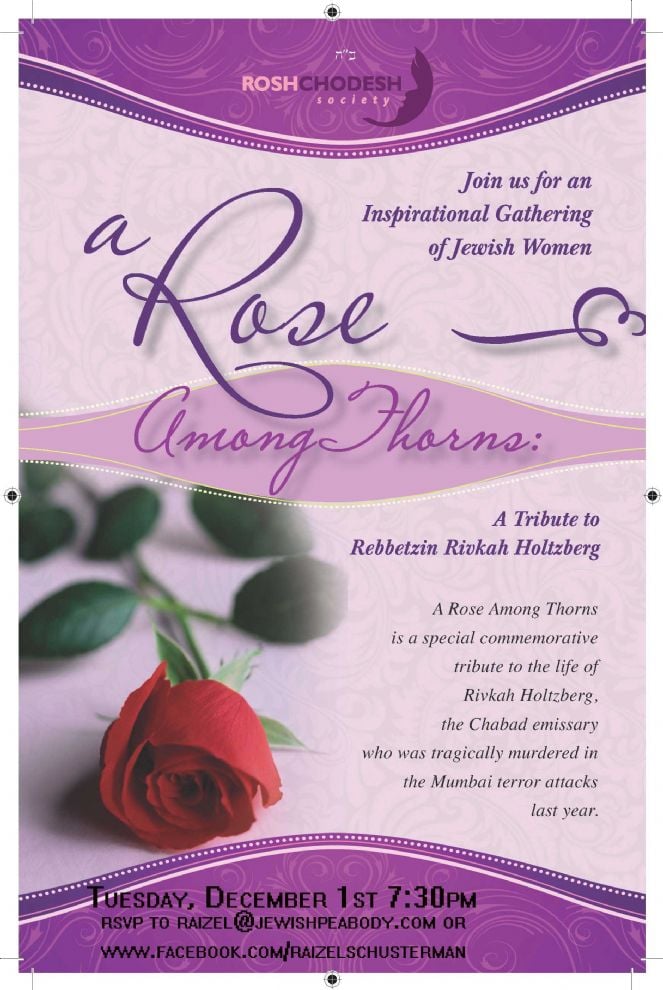 SCHEDULE OF EVENTS FOR 2009 & 2010 CLICK HERE FOR PDF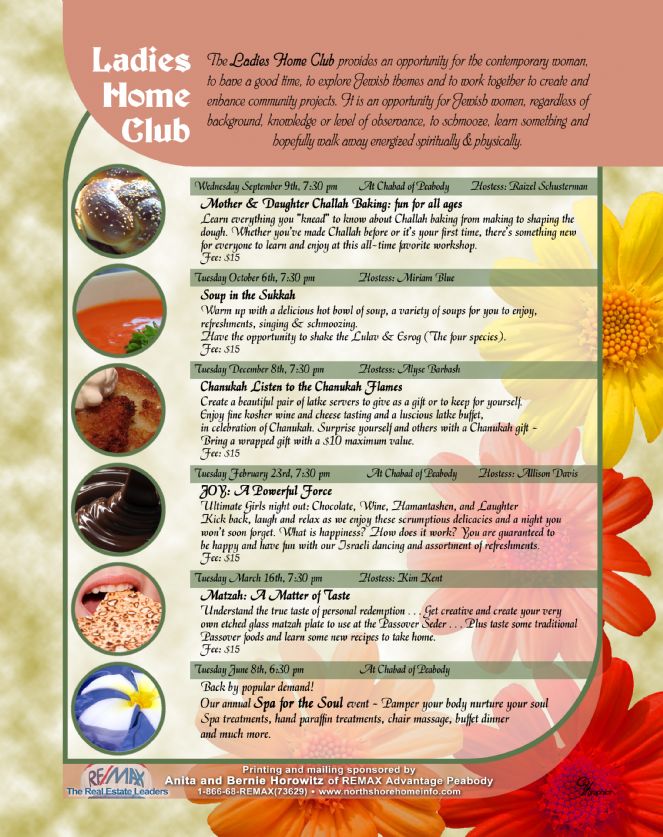 Chabad of Peabody 
has formed a woman's group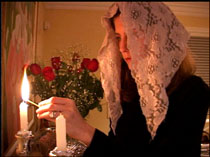 called the Ladies Home Club, the group is designed for the contemporary woman.  The goal of The Women's group is to unite all Jewish women in the area through exciting events and activities.
 The Ladies Home Club comprises women of diverse affiliations and backgrounds who join together under the Chabad umbrella. To have a good time, to explore Jewish themes and to work together to create and enhance community projects.
 The group will sponsor a variety of programs, including classes for women at homes in the Peabody area. Special Jewish women?s events, and bi-monthly social gatherings which will explore Jewish themes. The organization?s volunteers will also visit Jewish women in local hospitals and help to support Jewish families in a variety of situations.
 The Ladies Home Club provides an opportunity to bring together women with divergent points of view, backgrounds and affiliations in an atmosphere of friendship,
 For information about this program Call Raizel @ 978-977-9111 or e-mail Raizel@JewishPeabody.com 
 SPONSORSHIPS WELCOME OR IF YOU CAN HOST THESE EVENTS PLEASE LET US KNOW!
.
PREVIOUS EVENTS FROM 08-09
 Next Event... Feb. 9th 7:00pm. See below for more info and to RSVP. RSVP to tubshevatseder@gmail.com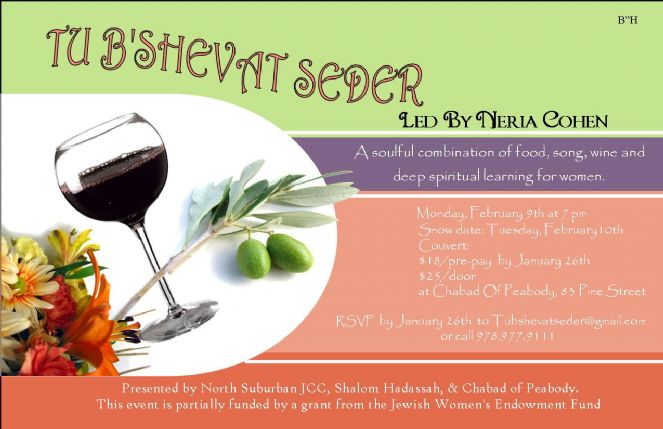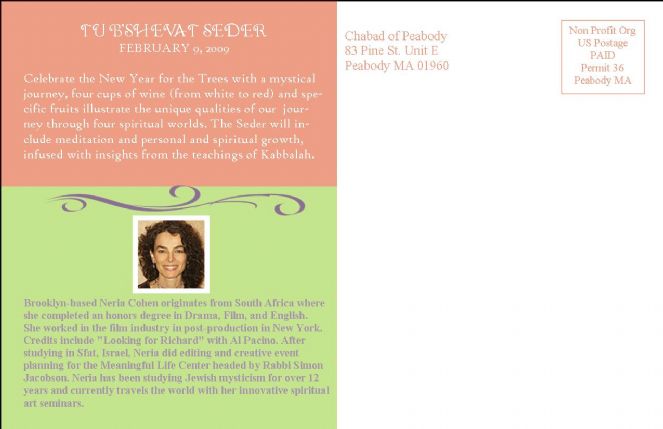 Combined Women's event Jan 26th 2009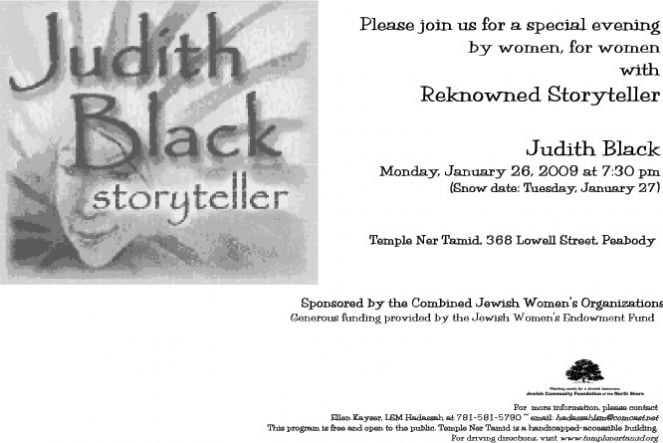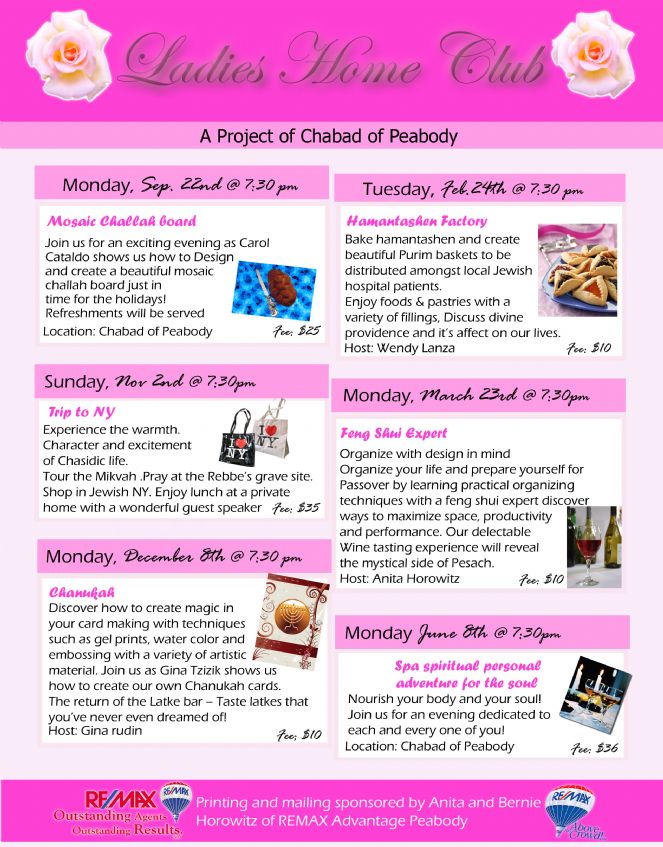 PREVIOUS EVENTS...
Upcoming LHC PURIM & JEWELRY MAKING TUESDAY MARCH 11th 2008 7:30pm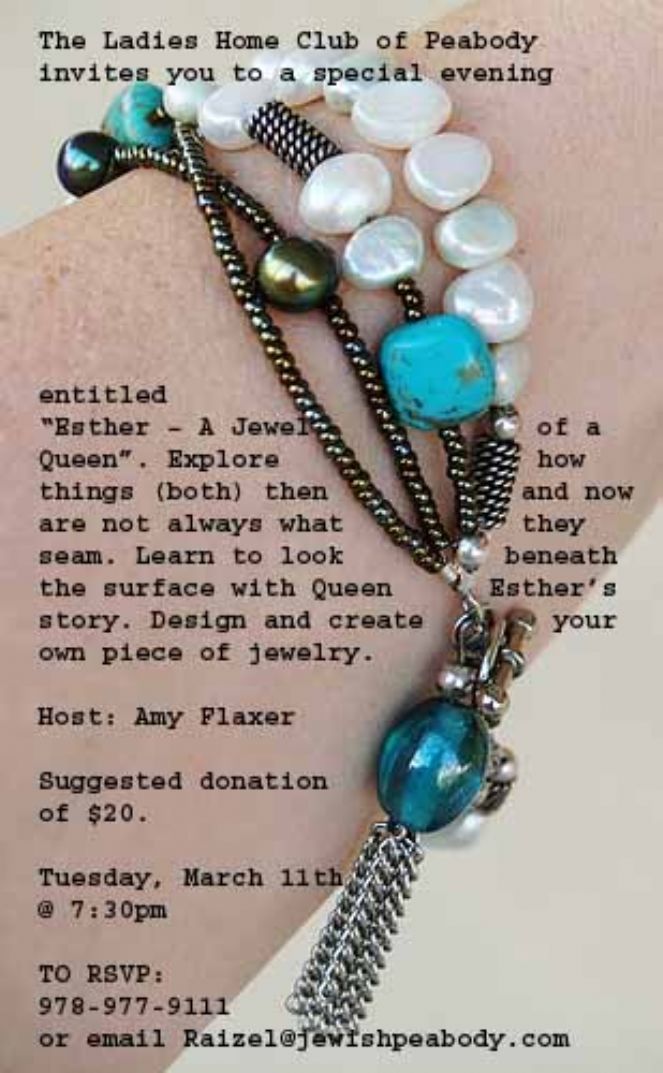 The Ladies Home Club 2007-8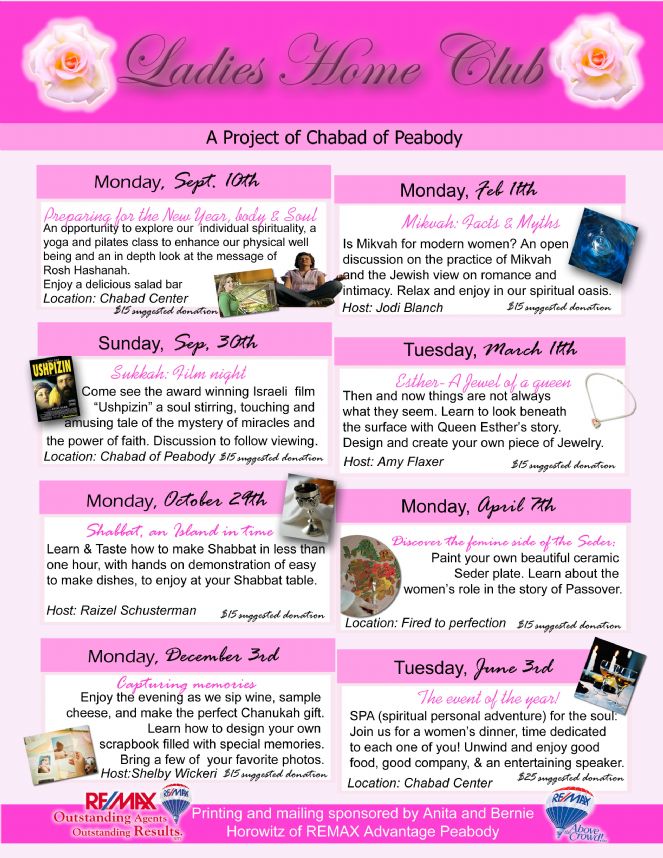 RSVP Raizel@JewishPeabody.com 978-977-9111
March 20th Event. click on picture below or here for PDF of this event...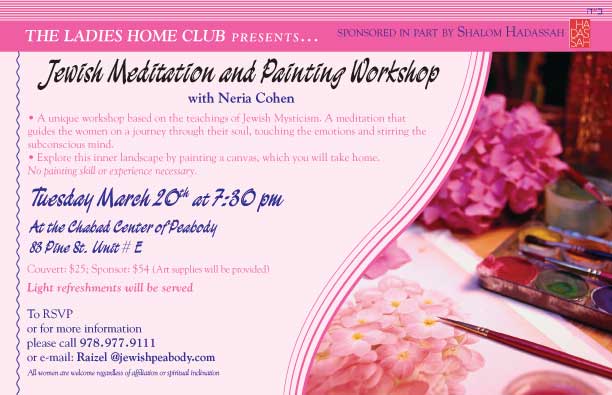 Previous events


Contact Info. Raizel Schusterman Raizel@JewishPeabody.com or call 978-977-9111
Date of Event: Tuesday September 12th 2006
Location: A private home in Peabody, you will be given the name and address upon rsvp'ing.
Food For the Palate, Food for the Mind
Sample & explore the how's and why's behind different traditional Rosh Hashanah Foods from the Jewish Communities around the world.
Come for the taste, stay for the flavor.
Suggested donation $15
For more information or to RSVP please email Raizel@JewishPeabody.com or call 978-977-9111
PREVIOUS EVENTS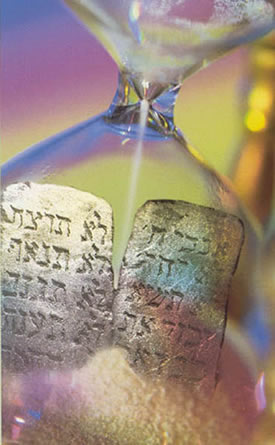 The Ladies Home Club of Peabody invites you to a pre Shavuot Women's event entitled, "Ruth - A Woman's' Journey to Holiness. Tuesday May 23rd at 7;30pm at the home of Marianne Wronka. Explore the Story of Ruth and its timely lessons, Learn the Art of flower care and design,  and design your own floral arrangement. Taste crepes of assorted fillings. $10.00 per person. WOMEN ONLY. PDF CLICK HERE
The Ladies Home Club of Peabody cordially invites you to join them on Monday April 3rd @ 7:30pm, for an evening entitled "Miriam and Her Musical Instruments"at a private home in Peabody.
Miriam's Role in the Exodus and insights into the Passover Seder.
Light Refreshments and Decorate Miriam's Tambourine.
Covert: $10.00 Donation $36.00 Sponsor $180.00
Rsvp: Raizel@chabadpeabody.comor 978-977-9111
Click Here for PDF of this Flyer...
The Ladies Home CLub will again be meeting on Monday, Dec. 12th. @ 7:30pm
Hostess: Allison Davis.
This Gathering's Theme:

 "

The Colorful Shades of Chanukah" Discuss the significance behind Chanukah traditions. Taste the Chanukah specialties - Latkes & Sufganiyot.
"Your Colors" - A makeup demonstration & personal makeovers by Mary Kay Cosmetics.
Guest Speaker: Chanie Chein - Chabad @ Brandeis
A Suggested Donation of $10 for each Program
Ladies Home Club. 
(FOR MORE INFO ABOUT THIS GROUP  & previous events....SCROLL DOWN...)
PDF of This brochure below!
NEXT EVENT:
Ladies Home Club, "soup in the sukkah"
Sunday, October 23rd @ 7:00pm (Women Only) @ the Sukkah of the Schusterman's. "The Holiday of Joy" & "The Joy of Being a Jewish Woman"
Discuss: The Joy of Sukkoth
Taste: an array of warm delicious soups.
Guest Speaker: Mrs. Elkie Zarchi of Chabad at Harvard.
  PREVIOUS EVENTS.
Ladies Home Club Shavuot 2005 Edition!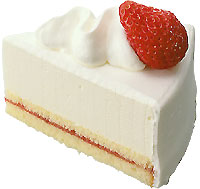 Shavuot and it's relevance today
Tuesday May 31st, 7:30 pm (

baby permitting - please check in advance for Baby (rain) Date! )
at the home of Anita Horowitz in Peabody   
Reacquaint yourself with Ruth, one of the noblest women of our history and enjoy a warm discussion served with an array of different cheesecakes ! to Rsvp and to get directions,  please e-mail Raizel @ Chabadpeabody.com  
Ladies Home Club of Peabody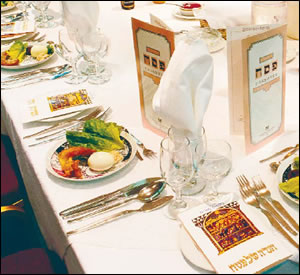 Cordially invites you to a
"Pre-Passover Recipe Exchange"
Getting bored of your "old favorites", come and join us as we share and taste new delicious recipes.
Guest Speaker: Mrs. Chanie Chein of Chabad at Brandeis University
 Chanie will teach us about the role of the Jewish Women in the story of the "Exodus" … then and now.
Donation $5
April 10th at 7:30pm
At the home of Jackie Forman
Call 978-977-9111 or E-mail Raizel@ChabadPeabody.com to RSVP and to find out exact address etc.
(Please bring along 25 copies of your favorite Passover Recipe … don't worry if you don't have one.)
(Sponsorships welcome please ask us how)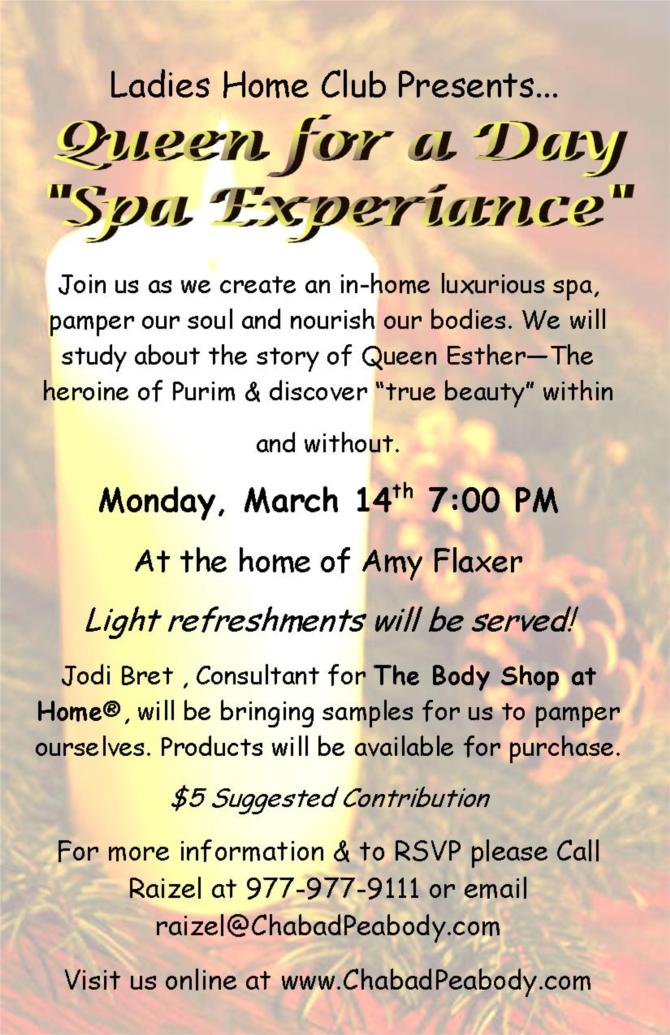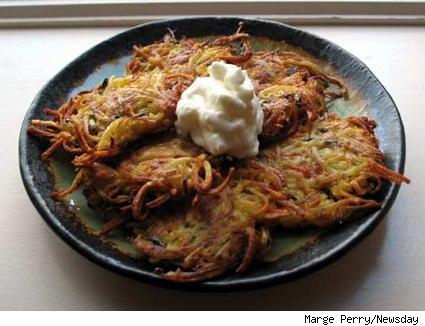 Ladies Home Club Chanukah Edition 

This Exclusive Women's group meets around Most Jewish Holidays and is an opportunity for women from our neighborhood to schmooze learn something and hopefully walk away energized spiritually & Physically.  The Next Meeting Date is December 6th at a private home in Peabody. Entitled "The Feminine Side of Chanukah"! For more info. e-mail Raizel@chabadpeabody.com  (nominal suggested donation) SAVE THE DATES: DEC. 6TH  AND MARCH  21ST FOR THE NEXT EVENT.
The Jewish Woman
The Jewish Woman is a site dedicated to providing Jewish women of all backgrounds intellectually challenging, emotionally uplifting and inspirationally stimulating articles.
Spa for the Soul
Join other women in the area for a "spa for the soul" including parfin treatments, massage and other physical delights with a spa for the soul and lecture entitled "The Feminie Side of G‑d"